When natural disasters strike, many ordinary people are sympathetic to the hardships caused by Mother Nature's turmoil. Wallets are opened, and contributions are made to bolster recovery efforts and assist victims. To solicit donations on a large scale, benefit concerts are organized, and celebrities are brought in to perform. World economic and social problems also draw attention, as seen by the billions of spectators during the Live Earth series and Live 8 series of benefit concerts. Celebrities, such as comedians or actors, may become spokespersons for a cause; however, celebrity musicians are the ones who really pack a wallop when it comes to getting the masses to donate funds. Famous musicians who perform benefit concerts have raised millions of dollars for worthy causes and will continue to do so. Thousands of fans, inspired by their favorite musician celebrities, bond together and work to accomplish the twin goals of raising awareness and cash for a particular cause. In Top 5 Most Successful Benefit Concerts of 2013 2013, five notable benefit concerts have been held:
Healing in the Heartland: Relief Benefit Concert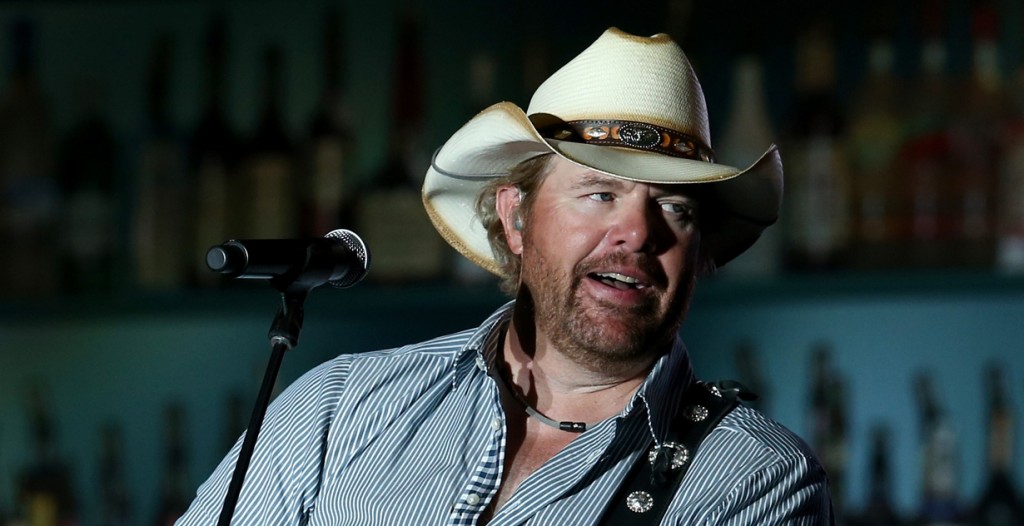 Toby Keith, a country music performer, organized a sold-out concert to benefit the victims of a series of tornadoes that swept through an Oklahoma City suburb on May 20, 2013. 24 people died when a tornado's 17-mile trek created destruction and misery. The July 6, 2013 concert included performers Garth Brooks, Krystal Keith, Kellie Coffey, Wade Hayes, Carrie Underwood (via satellite), Mel Tillis, Trisha Yearwood, Willie Nelson, Toby Keith, Sammy Hagar, John Anderson, and Ronnie Dunn. Sponsors Ford Trucks, Verizon Wireless, Academy of Country Music Lifting Lives, and Wal-Mart helped defray costs. Text-to-donate capability was provided by Verizon wireless before, during, and after the concert. Texts were limited to 5 per phone, with each text donating $10.
The concert made history, as approximately 60,000 people attended the concert, making it the largest number of paid attendees for an event at the stadium. The concert was televised, and viewers made pledges to contribute, as well. The concert raised $ 2 million dollars and the proceeds were donated directly to the United Way of Central Oklahoma's May Tornadoes Relief Fund.
Farm Aid 2013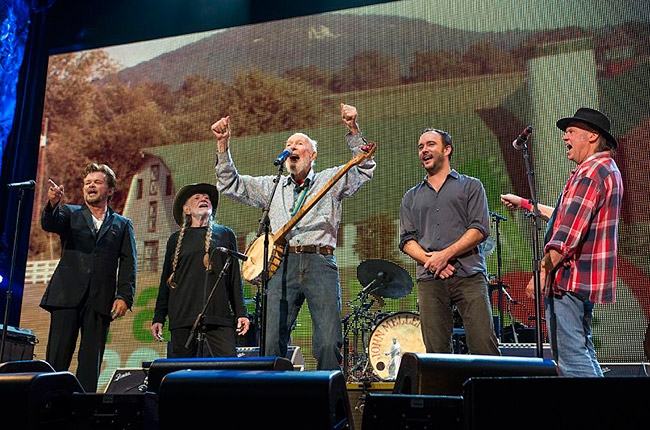 In America, Farm Aid is the longest-running concert series. It has raised more than $43 million to help farmers succeed in their livelihood, and also teaches millions about the Good Food Movement (emphasizing choosing food that is local, organic, humanely-raised, and from a family farm). The sold-out September 21, 2013 concert performers included John Mellenncamp, Willie Nelson, Dave Matthews, Neil Young, Tim Reynolds, Amos Lee, Jack Johnson, Musgraves, Jamey Johnson, Pegi Young & The Survivors, Toad the Wet Sprocket, Carlene Carter, Bahamas, Lukas Nelson & Promise of the Real, Jesse Lenat, Sasha Dobson, The Blackwood Quartet, and Insects vs. Robots. 25,000 fans attended the concert, which could also be seen on a webcast, and listened to on Willie Nelson's SiriusXM channel. Attendees engaged in many hands-on farm and food activities, games, art project, quizzes, and contests.
Global Citizen Festival Concert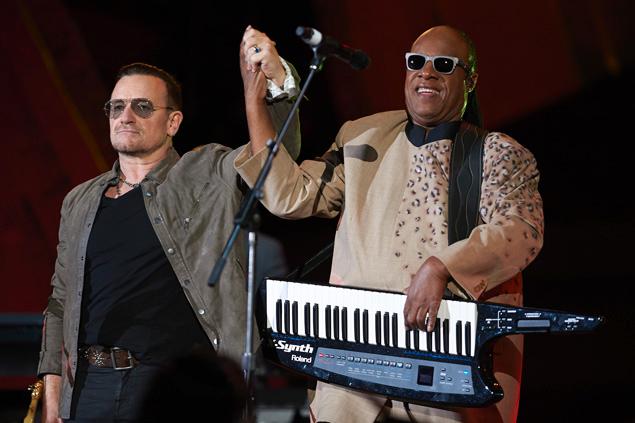 The Global Poverty Project urges world leaders at the United Nations to do more about raising the living standards among the world's poor. Hugh Evans, the founder and chief executive of the charity, states, "Our hope and our desire is that citizens will get deeply involved with our major policy issues." The concert is intended to apply pressure to industrialized nations to allocate one tenth of their foreign aid budgets to education, and give support to programs empowering girls and women in third world countries. They are lobbying U.N. health officials to provide more basic vaccines to children in under-developed countries, and place thousands of new health workers in Sub-Saharan Africa. They also plan to lobby for community health workers in Africa to be provided free cell phones and data lines.
The September 28, 2013 Global Citizen Festival Concert featured Alicia Keys, John Mayer, Stevie Wonder, and Kings of Leon. Unlike most benefit concerts, the end goal of this concert was not money, but raising the public's consciousness and garnering positioning as a lobbying tool. On that note, approximately 54,000 tickets were given away, and 6,000 tickets were sold to cover expenses.
2013 Major League Baseball All-Star Charity Concert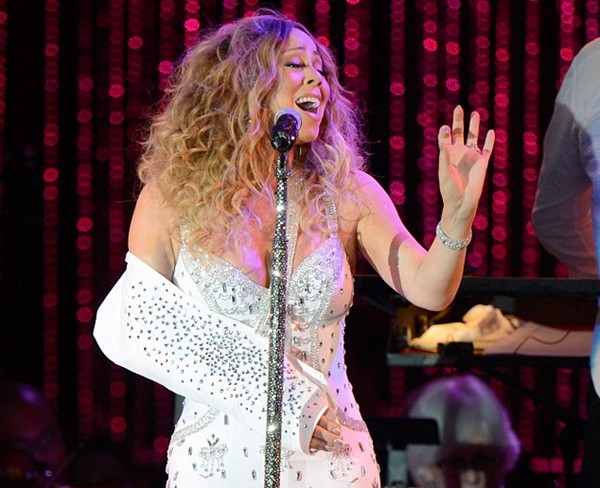 On July 13, 2013, Mariah Carey performed with the New York Philharmonic during Major League Baseball's All-Star Charity Concert. The Grammy-award winning singer performed "My All," "Looking In," "Beautiful," and "Hero," 4 of her many hit songs. Just a week before, Mariah sustained multiple injuries while filming a music video. Concert goers proclaim her dazzling performance was not diminished despite her cracked rib, bruises, and dislocated shoulder. Mariah's slings were covered in feathers and looked elegant in evening gowns with matching slings to help hide her injuries. The concert was free to attendees, and MLB donated $1 million dollars to benefit Superstorm Sandy victims. As part of the Midsummer Classic, MLB donated $4 million for other national and local charities.
Boston Strong Concert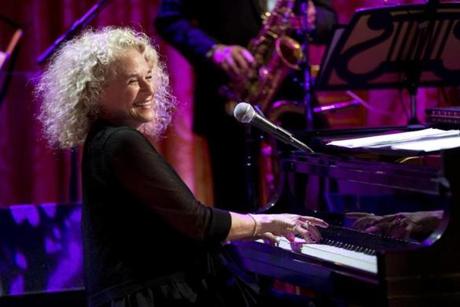 Victims of the Boston Marthon bombings were benefited by the Boston Strong Concert, which raised $2 million from ticket sales, retail, and concessions. Performers at the sold-out show included Aerosmith, Dropkick Murphys, Boston, Boyz II Men, Jason Aldean, James, Taylor, Carole King, Bell Biv Devoe, Richard Blanco, The J. Geils Band, Steve Sweeney, Jimmy Buffett, Lenny Clarke, Extreme, Steven Wright, and New Kids On the Block.
The theme song that drew together the performers and attendees was "Come Together" by the Beatles.  The Concert was broadcast June 29 without commercial interruptions, and viewers were given the opportunity to donate during the broadcast.
The natural and man-made disasters of 2013 have certainly touched the hearts of many celebrities and compelled them to use their recognition and talent to garner support for worthy causes. Critics say celebrities are performing to bolster their public image. While that may be partly true, the fact remains that benefit concerts raise much-needed funds for victims of disasters all over the world. Using one's celebrity status for a worthy cause is an honorable, noble purpose.