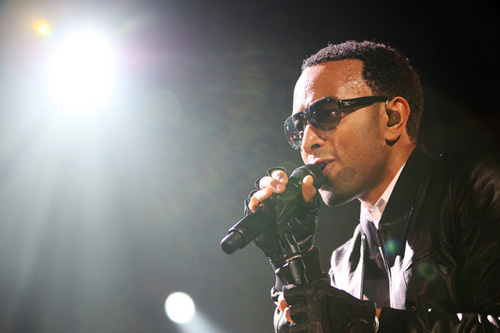 John Legend, the famous American soul singer-songwriter, has been making strides in the fight to make society more environmentally friendly. Legend has won nine Grammy awards and received a special award from the Songwriters Hall of Fame. Focusing on disaster relief and reducing reliance on non-renewable energy, Legend has done everything to promote sustainability, from performing at awareness concerts to having his tour go green. He even performed at the Green Inaugural Ball, an event that promoted and celebrated President Obama's promise to focus on sustainable energy and environmentally friendly policy. Legend's approach to painting the world green is focused on awareness. The singer, whose most popular albums include Get Lifted and Evolver, wants people across the globe to join together to better living conditions.
Legend has focused on leading by example when it comes to lessening carbon footprints. He told The Guardian that he recycles very carefully and was interested in purchasing a hybrid car. In 2009, he partnered with REVERB, a non-profit environmental organization, to make his 50-city Evolver tour as green as possible. Arrangements were made with venues and hotels to make sure ecofriendly products and services were available. The carbon footprint of the tour was calculated, and Legend decided to offset it by matching it with investment into wind farms and other environmentally forward projects. Merchandise that was green-friendly was sold on his website, which also included resources for ride-sharing to the venues. Prizes and tips were offered to fans that rose to calls of action. In part because of this tour, Legend was given a spot on Billboard's Green 10 list.
Legend is also concerned with how the environment can affect health and poverty across the world. He launched a campaign in 2007 called The Show Me Campaign after researching global solutions to poverty. The mission of the campaign is to "support community-led development initiatives aimed at providing sustainable, scalable solutions that help the communities lift themselves out of extreme poverty." Through efforts in awareness and fundraising, Legend was able to promote development in Mbola, Tanzania, and other impoverished areas. He has undertaken such initiatives as providing mosquito nets to prevent malaria, offering free lunches for children who attend school, and ensure that clean drinking water is available. He was awarded a BET Humanitarian award for his work on the campaign. The Show Me campaign continues to so this day; its latest initiative is a team-up with the International Rescue Committee to raise awareness for children in crisis zones.
Legend has partnered with many awareness-through-music organizations, such as Live Earth, to spread a message of environmental sustainability. His own project, The Show Me campaign, has partnered with Jeffrey Sachs' Millennium Promise organization to ensure proper strategy for combating poverty. Legend has also partnered with Tide's Hurricane Katrina relief efforts, AIDS Service Center NYC, Hope for Haiti Now, and the World Economic Forum. Legend shows no sign of slowing down his environmental efforts, and with the release of his next full-length record, America will see another round of innovative green efforts.
Links of Interest
John Legend Plans Eco-friendly Summer Tour
John Legend's Show Me Campaign Earns BET Humanitarian Award