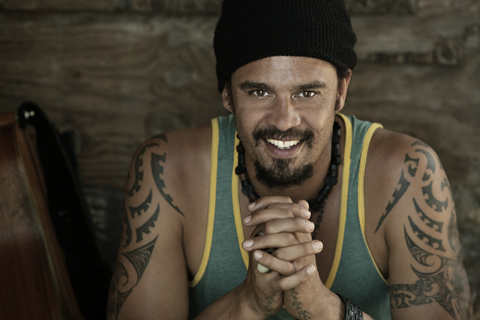 Michael Franti, of the reggae, hip-hop, jazz fusion band Michael Franti & Spearhead, has long been seen as an activist for social, political, and environmental causes, but few know the strides he has made to turn the music industry into a conscientious and ecofriendly community. Franti's environmentalism goes much further than his oft-noted decision to go barefoot; Franti is vegan, and takes care both at home and on tour to reduce his carbon footprint. He hosts a festival that is intended to inspire environmental, social, and political change. Franti's philosophy is to lead by example. He told Grist, an online environmental magazine, that he believed the role of the music industry is "to be an example of an industry that can green itself." He also stated that music is a way to inspire people and deliver positive messages. "The other thing," he said, "is that music can help with awareness through the music itself."
One of Franti's biggest initiatives to inspire environmental change is to reduce his personal carbon footprint and make his music tours more ecofriendly. At his house, he has changed his light bulbs to more energy-efficient alternatives, has stopped using plastic bags, and has begun recycling and composting waste. More importantly, he has set an incredible example of just how green a tour can be. His tour bus runs on biodiesel, require that things be recyclable on his tour rider, and uses organic cotton and hemp for merchandise. He even uses biodiesel generators on his festival's stages and requires merchants to use biodegradable plates and utensils. "I feel like inspiring people to be a part of this change that's taking place in this country and around the world," he told Grist. Franti hopes things work together to inspire change. By requiring venues to use green products, it supports makers if green products, which supports communities and concert goers.
Franti's other major initiative is his Power to the Peaceful festival, which he holds annually for free in San Francisco. The goal of the festival is to "combine Music, Art, Community and Consciousness for people of all ages and from around the world," and features green vendors and an ecovillage. While the festival couldn't take place in 2012 due to rising city fees, it will continue to make an impact in the future. The festival has become a tradition in San Francisco and brings in more than 50,000 attendees. The festival is a way to raise awareness while also providing a blueprint for how other music events can be more sustainable. In addition to musicians and performers giving speeches and calls to action about environmental issues, the entire festival itself is recyclable, biodegradable, and run on more ecofriendly energy.
In addition to the Power to the Peaceful festival, Franti has partnered with many organizations to raise global awareness about environmental and political causes. CARE, an organization seeking to end global poverty, is a major sponsor of the festival. Because of this, Franti is the San Francisco ambassador for CARE. In 2001, Global Exchange offered him a Domestic Human Rights award for his work. Franti has also partnered with organizations that seek to improve voter turnout and political engagement. The Hunters Point Family, a nonprofit that strives to improve outcomes for at-risk youth, has been supported by Franti on several occasions. Finally, Franti's clothing line Stay Human donates part of its proceeds to the Bumi Sehat Natural Birthing Clinic in Indonesia.
Links
Power to the Peaceful
Grist Article on Franti
The Western Edition