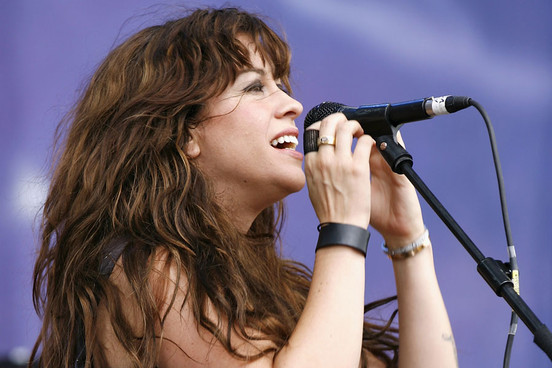 With a musical career that has grown to unprecedented proportions, Alanis Morissette is no stranger to the limelight. The singer is perhaps best known for her smash hit "You Oughta Know", a powerful song that rages with lyrics telling the tale of a bitterly ended romance; however, her true breakthrough arrived at the release of an entire album. Titled "Jagged Little Pill", this collection of songs gave Morissette numerous awards and a loyal base of hardcore fans. However, even with all of the fame that the singer has accumulated over the years, she is a dedicated environmentalist who frequently voices her opinion on how to ensure that the world remains a safe, natural haven for generations to come. Alanis Morissette believes that global warming poses a true threat to the Earth and has gone to great lengths to make her mark in the fight for the environment, becoming a vegan and being involved in several national environmental awareness campaigns.
One of the singer's most significant contributions to the environmental cause was her narration of a documentary that warned against the onset of global warming. Titled "The Great Warming", It made several national headlines; the New York Times praised the program, stating that it should be required viewing for every person. The documentary consisted of versions that were geared towards various communities, but made the largest splash with both evangelical churches and animal welfare groups, providing valuable insight on global warming that had not been previously considered.
Another one of Alanis Morissette's most notable contributions to the environmental effort was her help in the fight against Deputy Interior Secretary J. Steven Griles; both she and the Beastie Boys joined the efforts of several environmental groups, including Greenpeace and Americans for Energy Freedom, to showcase the Deputy Interior Secretary's failure to oversee various national parks, including Yellowstone and the Grand Canyon. Griles, with his previous connections to assorted oil companies, was reputed to have repeatedly shown conflicted environmental interests, and Morissette joined the voices of those who said that he was not to be trusted with the country's most valuable ecological havens.
Alanis Morissette has been linked to several environmental causes and organizations throughout her career, and she has won awards for both her music and her efforts to improve the world. In recognition of the singer's repeated actions to protect the environment, the EMA Missions in Music Award was given to Morissette after she voiced her opposition to drilling in the Arctic National Wildlife Refuge. Alanis Morissette has lent both her music and her political voice to a number of causes and has assisted many organizations in their goal to protect the environment, including Greenpeace, a widely acclaimed environmental protection organization, as well as the group Americans for Energy Freedom. Her personal dedication to the ecosystem has also not gone unnoticed; she frequently makes an effort to reduce her carbon footprint while on musical tours with the assistance of Reverb, a nonprofit environmental group. Regardless of where the singer is or what she is currently going through, she never fails to showcase her compassion for others and for the Earth.